HISTORY OF ST. PAUL CATHOLIC CHURCH CONTD.
By the mid-seventies, this community had grown tremendously and with the active support of his Lordship, Most Rev. Dr. Patrick Ebosele Ekpu, who in 1973 succeeded Bishop P. J. Kelly, the idea of constituting St. Paul's Catholic Church came under serious consideration and his Lordship gave three conditions for the establishment of the Parish:

1. The Existence of a suitable Parish house for the Priest. 2. Evidence of ability to support a Priest and maintain a Church 3. The provision of a suitable Vehicle for the Priest's use.

In order to seek ways and means to meet these conditions, a development Council was set up under the Chairmanship of Mr. A.I. Obiyan, Other members of the council were Mr. P.D. ofili (Vice Chairman), Mr. F. O. Egonwan (Secretary), Mr. J.A. Emodogo (Assistant Secretary), Dr. A.U. Salami (Public Secretary), Mrs. F.E. Odu (Treasurer), Mrs. A.C. Halim (Financial Secretary), Catechist M.E Ede, Mrs. Abigail Ebowe, Mrs. Victoria Edokpolo, Mr. Joseph Imoikor, Mr. Benjamin A. Osuyi, Chief Augustine Osuan, Mr. B.U. Izegbu, Dr. P.A.Egbe, Hon. Justice Victor Ovie Whiskey And Mrs. Agatha Ehiema.

Thus, when in 1978, the Augustine Father, under the leadership of Fr. P. Lyons was assigned to work at St. Paul Catholic Church, the Council was of immense assistance in areas of repairing and furnishing the old Bishop's Court, which then housed the parish priest until the days of Rev. Fr. Charles Imokhai and Rev. Fr. Osilama T. Obozuwa who built and moved into the existing Rector. The development Council proceeded to make the Seminary Church Spacious, Comfortable and more befitting for worship. The work undertaken included the re-roofing and extensions of the Seminary Church, the provision of fans and ceiling for the Church, Provision of Louver windows and burglar protection for the windows, etc. from the outset it was known that Fr. Lyons and his team would stay for about three years at St. Paul's. Before they were to move to their permanent site of St. Augustine in 1981, they had successfully established St. Paul's Catholic Church as a viable entity. With the departure of the Augustinians, Rev. Fr. Charles Imokhai was posted to St. Paul's parish.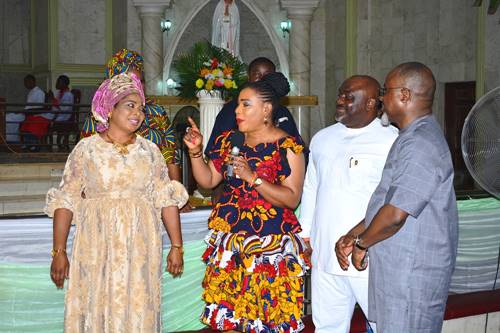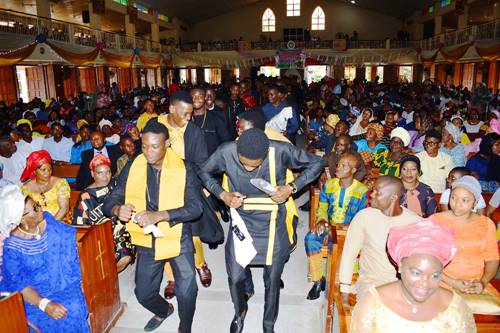 On June 13, 1983 there was a change of Parish Priest. Fr. Charles was replaced by his Lordship Rev. Fr. Osilama T. Obozuwa as the parish priest. The church building was eventually dedicated on Saturday, 1st February, 1986 by His Lordship Most Rev. Dr. Patrick Ebosele Ekpu, the then Bishop of the Diocese of Benin. The Building was the largest Catholic Church in Benin Diocese at that time and one of such size to be financed without external aid from the catholic church overseas. The church in Nigeria was maturing and becoming financially independent. The building was also an eloquent testimony of what could be achieved if the laity was effectively mobilized and motivated to work in co-operation with the clergy for the love of God and fellow human beings. Ever since the dedication of the church, the parish has been blessed with hardworking dedicated and committed priests who improved on what they met on ground. They extended its territory by acquiring the plot of land for the present Youth Centre (an idea conceived by Chief Dr. G.A. Aletor). In 1991, Rev. Fr. Lawrence Balogun took over from Rev. Fr. Osilama Thomas Obozuwa (Late). Rev. Fr. Balogun initiated the use of planned offering as Priest. He introduced second collection to complete the Youth Centre. The Church premises and the footpath way to bishop Kelly Pastoral Centre were tarred in his tenure. It was also during his time that the interlocking tiles on the Rectory ground and the construction of the parking space took place.

Then came the era of Parish Administrators first of whom was Rev. Edwin Omorogbe (assisted by Reverend Fathers Jude Onogbosele and John Edosamwan), who took over from him on 31st July 2004. He gave saint names to the zones. Zone A became Immaculate Conception Zone, Zone B: Holy Family Zone; Zone C: Triumph of the Cross Zone: Zone D: St. Dominic Zone; Zone E: Blessed Tansi Zone and Zone F: St. Joseph's Zone. Rev. Fr. Andrew Obinyan was posted to the parish as the Administrator in September 2005. Rev.Fr. Obinyan, an Energetic Young man brought in some innovation. He introduced the Midday Mass, gave the altar and conference hall some facelift, bought the current 00 seaters Parish bus, got the St. Paul's Medical Centre Registered with the Edo State Ministry of Health and started the reconstruction of the Grotto with the support of the C.W.O. The Rectory was burnt in his time but Rev.fr. Andrew Obinyan also started the reconstruction of the Rectory after a new design by Arc. Nat. Osogbue who also supervised its building to its present completed and furnished state.

Rev. Fr. Paul B. Enow, took over from Rev. Fr. Obinyan in December 2006. He completed the new Rectory that was gutted by fire in Rev. Fr. Obinyan's time. During his tenure, the new Grotto was completed and dedicated on August 6, 2007. He embarked on a grand design, reconstruction of the church building. This massive ultra-modern edifice was tastefully completed. Rev.Fr. Enow also acquired huge parcels of land for the Mass Centre, Some of which are today viable Parishes, for development. These Include:

I. St. Paul's Mass Centre, Umegbe II. Corpus Christi Mass Centre, Irrue-nowina III. Church of Ascension, Oko now a new Parish IV St. Matthew's, Ogba now a new Parish V St. Luke's Mass Centre, Emwinyomwanru

The massive Reconstruction/Renovation of the Church, a colossal Transformation from a mere "Warehouse" of the cynics to an ultra-modern "Basilica", started in 2009 after the approval of the new design of the Church by the then Archbishop of Benin City, His Grace, Most Rev.Dr. Richard Burke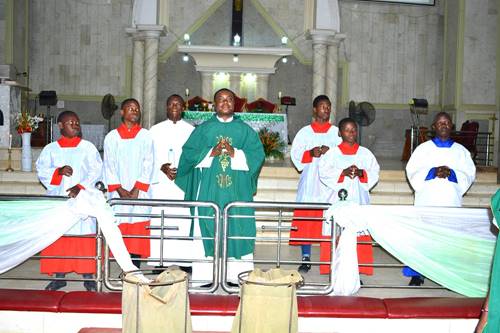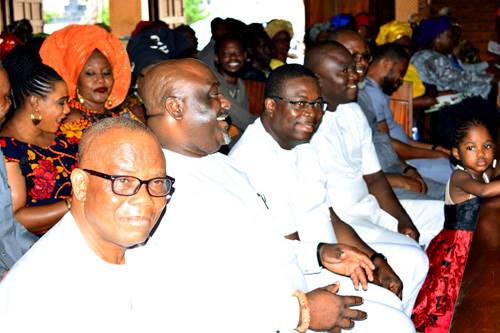 Precious in our hearts is our very own Chief Stephen, His Grace, Most Rev. Dr. Augustine Obiora Akubeze, The present Catholic Archbishop of the Catholic Archdiocese of Benin City, Who following the Apostle Paul will share a meal with everyone, rich or poor, big or small, not counting himself superior to anyone. In accordance with his book "Feed my Sheep", he feed us through his suggestion/advice, encouragement, support, prayers and love which enabled us to reconstruct this massive edifice. His choice of St. Paul's Catholic Church as the venue of his installation as Archbishop even when the reconstruction was yet to be completed and his gracious rededication of the Church are some eloquent testimonies of his fatherly love and care for us.

The various committees/groups that stubbornly refused to be outdone in hard work and commitment to the success of the reconstruction must be recognized and commended. Among them are: 1) Parish finance council, the engine room for the fund raising and management of funds for the reconstruction work. The parish Finance council headed by the parish Priest, Rev. Fr. Paul B. Enow has Dr. J.R. Iyasere as his Vice chairman for most of the reconstruction period, Mrs B.E. Ade Martins (current Vice Chairman) with Mr. Patrick Ehimen, Mr. Nelson Ogowewo, Prof, M.O. Obiaya, Mrs. H. Irusota, Mr. Greg Irene (late), Mr. Obayagbona, Mr. G. Afemefuna as member. It was the parish Finance council that set up the church reconstruction fund raising committee headed by Dr. (Mrs.) E.K Uduehi and Dr. J.R. Iyasele as deputy Chairman. Other members were Mr. Patrick Ehimen, Secretary, Mr. James Urhere, Mr. N. Ogowewo and others.

2) The development/maintenance Committee Chairman, Rev. Fr. Paul B. Enow, Vice Chairman, Prince J.E. Iduozee, Mr. Patrick Ehimen, Secretary, other members; Dr. O.O. Otiotio, Engrs. J.I. Osawe, C.O. Idemudia, Osaze Gab, Eromonsele, F.A. Aire and Emma Ofoedu, Arc.Nat. Osogbue, Arc. Mike Ebesunu, Mr. Nelsin Ogowewo, Mrs M.E. Osawe, Mr. Robert Akhibi, Patriot James Urhere, Mr. G.E.I. Simate, Mrs. P.A. Aletor, Mr. William Omoigui, Mr. Austine Omofoman and Mr. Jacob Ibhafidon. 3) The rededication committee: Chairman, Dr. J.R. Iyasere, Secretary, Mr. Patrick Ehimen and Sub-Commitees Chairmen: Mr. James Urhere (Protocol/Publicity), Mr Alexis Aligbe (Liturgy), Chief(Mrs.) J.N. Omatsola (decoration), Mrs. M.E. Osawe(Catering), Mr. Mike Moeteke(works), Dr. R.

Obidigbo(finance), Mr. I.C. Okonkwo(security) and Mr. Greg Itemisa(Entertainment). The committee which had the Parish Priest, Rev.Fr. Paul Enow and assistant Priest, Rev.Fr. Innocent Obi, OMV as Advisers worked tirelessly for the successful rededication of the church which we witness today.

4) All Parishioners, true loving members of one great family of St. Paul's parish made generous contribution through their donations in the fund raising activities and the annual Harvest Thanksgiving activities which included a veritable source of funds, the family Thanksgiving.